History of St. Martha Church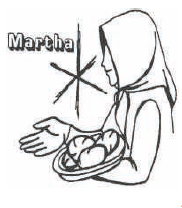 In April, l954 Cardinal Mooney purchased nine acres of wooded land from Ford Motor Company to be the future St. Martha church and school. Fr. Peter Borkowicz was appointed founding pastor with over 700 families from the neighboring parishes of St. Sebastian, St. Mary Magdalene, Sacred Heart and St. Joseph.
Summer masses that first year were celebrated in Snow school then, in the fall, in the auditorium of the Edison Institute at Greenfield Village. With a loan from the Archdiocese, "sweat equity", and a successful capital campaign, the founding families cleared the land and raised $135,000 to begin construction. December 19, 1954, saw groundbreaking ceremonies leading to laying of the cornerstone on March 13, 1955.
July, 1955 saw 175 parishioners put the final touches on the new church in preparation for the celebration of the first Mass and first communion for sixty young parishioners. In September of the same year school doors opened to 160 pupils and three Holy Family of Nazareth sisters and one lay teacher.
Over the years St. Martha has seen the growth of its parish organizations and activities, many of which continue to this day. While the school closed in 1974, the religious education of parish families continues and welcomes new families each year. Along with the contribution of hundreds of parish families over the years, St. Martha has been blessed with the priestly service of many dedicated pastors. We are grateful for their pastoral dedication to St. Martha and its contribution to the Dearborn Community
Pastors of St. St. Martha Church
June, 1954-June, 1966 Fr. Peter Borkowicz
June, 1966-June, 1971 Fr. William Rademacher
June, 1971-Sept. 1974 Fr. Francis Zdrodowski
Sept. 1974-March, 1981 Fr. Norbert Kendzierski
March, 1981-July, 1985 Fr. Robert V. Monticello
July, 1985-June, 1991 Msgr. Edward C. Burkhardt
July, 1991-June, 2000 Fr. John. F. Child
July, 2000-June, 2006 Fr. Donald Walker
July, 2006-June 2013 Fr. Terrence Kerner